Telit LE910C1 Mini PCIe LTE CAT1 Module
$64.90
This product only includes the Telit Mini PCle 4G/LTE Module. In order to use this with a Raspberry Pi, you need to use a Base HAT, LTE antenna .
Description
This Telit Mini PCIe is a series of LTE category 1 module adopting standard PCI Express® MiniCard form factor (Mini PCIe). It is optimized for LTE low category networks and are available in single-mode and 3G/2G fallback.
You can easily insert a Mini PCIe module in Base HAT then start using cellular internet with your Raspberry Pi. Only USB communication is available.
Features:
LTE FDD Cat.1, 3GPP release 9 compliant
Data: LTE Cat.1 Uplink up to 5Mbps & Downlink up to 10 Mbps
Built in UDP/TCP/FTP/SMTP stack
SMS over IMS
Control via AT commands
Simultaneous support of GPS, Glonass, Beidou, Galileo, QZSS
Key Applications
Video/Music Streaming
Large Data Downloads and Uploads
LTE Dongle/Router
Mobile Internet Hotspot
High-speed GPS Tracking
Real-time Environmental Monitoring
Smart City & Agriculture Applications
Smart Parking
Security & Asset tracking
Antenna Interfaces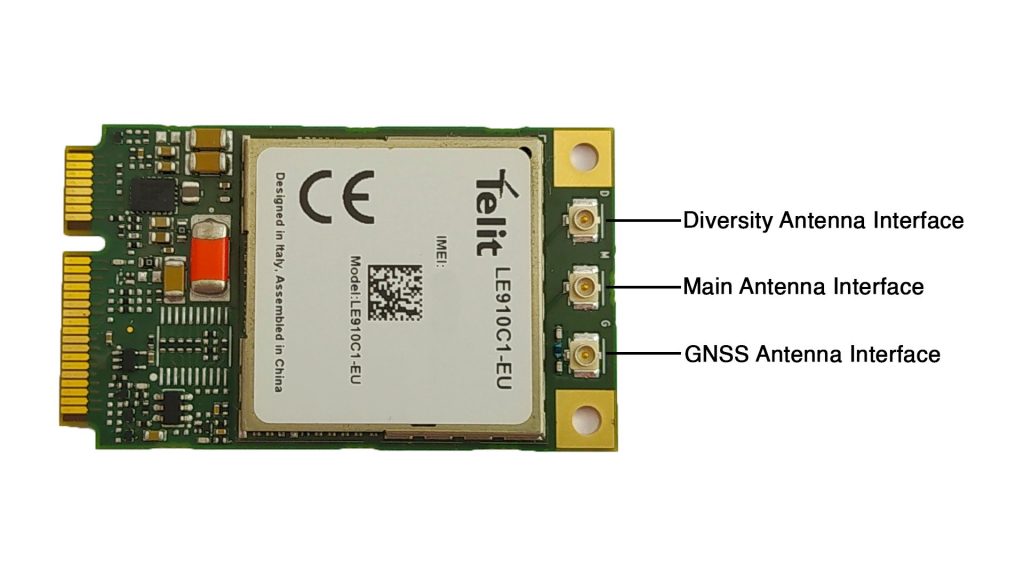 Antenna Recommendations
LTE: Sixfab LTE Antennas
Package Includes
1x Telit Mini PCIe CAT 1 Module
Documents:
Driver: