Description
Quectel UC20-G 3G IoT Mini PCIe is a series of powerful functions UMTS/HSPA+ module featuring a maximum data rate of 14.4Mbps downlink and 5.76Mbps uplink. It is designed to provide customers with global network coverage on the connectivity of HSPA+/WCDMA. The module is fully backward-compatible with existing EDGE and GSM/GPRS networks, ensuring that it can be connected even in remote areas devoid of 3G coverage.
UC20 supports multiple-input multiple-output (MIMO) technology, a cutting-edge antenna technology capable of transmitting multiple data streams on multiple transmitters to multiple receivers. The antennas at each end of the communication circuit are combined to minimize errors and optimize data speed. The module also combines high-speed wireless connectivity with an embedded multi-constellation high-sensitivity GNSS receiver. A rich set of Internet protocols, industry-standard interfaces and abundant functionalities (USB drivers for Windows XP, Windows Vista, Windows 7/8/8.1/10, Linux(Raspian), Android/eCall) extend the applicability of the module to a wide range of M2M applications such as an industrial router, industrial PDA, rugged tablet PC, minicomputers like Raspberry Pi, video surveillance and digital signage. The compact profile of 51.0mm × 30.0mm × 4.9mm in standard Mini PCIe form factor and the high integration level enable integrators and developers to easily design their applications and truly benefit from the low power consumption and convenient Plug and Play function.
You can easily insert a Mini PCIe module in 
Base HAT
then start using cellular internet with your Raspberry Pi. Both UART and USB communication with modules are available.
Features
Worldwide UMTS/HSDPA+ and GSM/GPRS/EDGE coverage with single module
With the Sixfab Base HAT, you can easily integrate UC20 with your RPi projects.
High-quality data and image transmission even in a harsh environment
GNSS receiver available for applications requiring fast and accurate fixes in any location
MIMO technology meets demands for data rate and link reliability in modem wireless communication systems
3GPP E-UTRA Release 11
Bandwidth: 1.4/3/5/10/15/20MHz
Temperature Range: -40°C ~ +80°C
Dimensions: 51.0mm x 30.0mm x 4.9mm
Approx. 9.8g
Supply Voltage: 3.0V~3.6V, 3.3V Typ.
3GPP TS27.007 and Enhanced AT Commands
Key Applications
Video/Music Streaming
Large Data Downloads and Uploads
LTE Dongle/Router
Mobile Internet Hotspot
High-speed GPS Tracking
Real-time Environmental Monitoring
Smart City & Agriculture Applications
Smart Parking
Security & Asset tracking
Technical Details
Data Speeds
HSDPA: Max.14.4Mbps (DL)
HSUPA: Max.5.76Mbps (UL)
WCDMA: Max.384Kbps (DL) / Max.384Kbps (UL)
EDGE: Max.236.8Kbps (DL) / Max.236.8Kbps (UL)
GPRS: Max. 85.6Kbps (DL) / Max. 85.6Kbps (UL)
CSD: Max.14.4Kbps (DL) / Max. 14.4Kbps (UL)
*DL: Downlink, UL: Uplink
Note: The speed highly depends on the in-use antenna, environment and distance to base stations.
SMS
Text and PDU Mode
SMS Cell Broadcast
Point-to-point MO and MT
Interfaces
USB 2.0 with High Speed up to 480Mbps
Digital Audio through PCM (Optional)
1.8V/3.0V (U)SIM Card Interface
ADC × 2: 15 Bits
STATUS for Power ON/OFF Status Indication
LED_WWAN# for Network Status Indication
W_DISABLE# for Disabling RF Function
UART × 2: Main UART, Debug UART
PERST# for Module Resetting
RTC Backup
SD Card Interface
Enhanced Features
Firmware Update: via USB or UART Interface
FOTA: QuecFOTA/DFOTA
QuecFile: File System Access and Management
Antenna: DL MIMO, Support Rx-diversity/GNSS Antennas
DFOTA: Delta Firmware Upgrade Over the Air
GNSS: GPS/GLONASS
GNSS Features
Qualcomm gpsOne Gen8 with 16 GPS Channels and 14 GLONASS Channels
SBAS (WAAS/EGNOS/MSAS)
Support XTRA™ Technology
Accuracy <1.5m CEP-50 @Open Sky
TTFF @-130dBm with XTRA™:

Cold/Warm/Hot Start: Typ. 22s/3s/2s

TTFF @-130dBm without XTRA™:

Cold/Warm/Hot Start: Typ. 32s/29s/2.5s

Sensitivity with LNA:

Cold Start/Reacquisition/Tracking: -147dBm/-159dBm/-161dBm

Power Saving Mode: DPO Mode
Dedicated GNSS AT Commands
Frequency Bands
800/850/900/1900/2100MHz @UMTS
850/900/1800/1900MHz @GSM
Region
UC20-G is the global version of the module, it can be used all around the world.
Electrical
Antenna
UC20 has 2 antenna interfaces:  Main antenna interface and a GNSS antenna interface. The impedance of the antenna ports is 50Ω.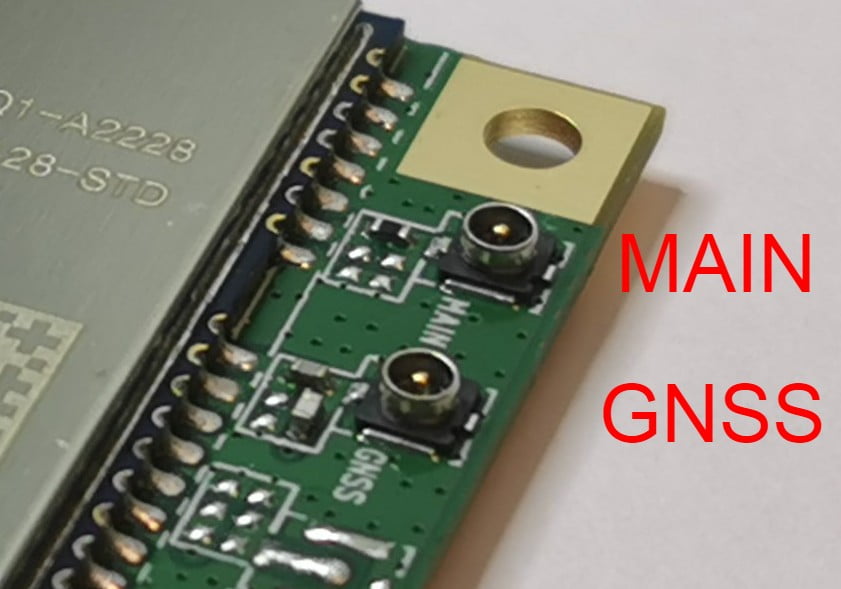 All of the antenna connectors are ECT818000117. This is compatible with the Hirose U.FL(known by a variety of names including AMC, UMCC, IPX) connectors. The recommended RF connector is UF.L-R-SMT.
Antenna Recommendations
Output Power
Class 4 (33dBm±2dB) for GSM850 and EGSM900
Class 1 (30dBm±2dB) for DCS1800 and PCS1900
Class E2 (27dBm±3dB) for GSM850 and EGSM900 8-PSK
Class E2 (26dBm+3/-4dB) for DCS1800 and PCS1900 8-PSK
Class 3 (24dBm+1/-3dB) for UMTS800/850/900/1900/2100
Power Consumption
20μA – Power Off
2.7mA – GSM Sleep, DRX=2 (USB Disconnected)
2.7mA – WCDMA Sleep, DRX=6 (USB Disconnected)
587mA – GPRS Data, Max Power
469mA – EDGE Data, Max Power
548mA – HSDPA, Max Power
534mA – HSUPA, Max Power
Note: The consumption results obtained while GNSS OFF.
Sensitivity
-110dBm @UMTS Bands
-108.5dBm @GSM850/EGSM900
-108dBm @DCS1800/PCS1900
Software Features
Driver Availability
USB Serial Driver
Windows 7/8/8.1/10,
Windows CE 5.0/6.0/7.0*,
Linux 2.6/3.x/4.1~4.14,
Android 4.x/5.x/6.x/7.x
RIL Driver
Android 4.x/5.x/6.x/7.x
NDIS
Windows 7/8/8.1/10
MBIM
Windows 8/8.1/10, Linux 3.18–5.4
GobiNet Driver
Linux 2.6/3.x/4.1~4.14
QMI_WWAN Driver
Linux 3.x(3.4 or later)/4.1~4.14
Protocols
PPP/ TCP/ UDP/ FTP/ HTTP/ FILE/ MMS/ SMTP/ SSL
Package Includes
1x Quectel UC20-G Mini PCIe 3G Global Module