Raspberry Pi 4G/LTE Cellular Modem Kit
This product includes default components for easy connection to LTE Cat M1/ CAT 1/CAT 4 networks. With the Raspberry Pi LTE Cellular Modem Kit, your Raspberry Pi based projects will access Cat M1/ CAT 1 / CAT 4 data networks all around the world.
$109.00 – $119.00
Description
Raspberry Pi 3G/4G & LTE Base HAT
The Sixfab 3G/4G& LTE Base HAT grants your Raspberry Pi or 40-pin Pi compatible single-board-computer a super-simple interface bridge between mini PCIe cellular modems. With the modems you insert into Base HAT, your Raspberry Pi based projects will access data networks all around the world. This Base HAT enables narrow-bandwidth to high-bandwidth cellular connectivity on your remote devices i.e from low-power consumption LTE-M to ultra-high-speed LTE-Advanced mini PCIe modules are supported. Both UART and USB communication with modules is available on the HAT.
Features
Fully compatible with Raspberry Pi models that have the 40-pin GPIO header (4, 3, 2, A+). Raspberry Pi Zero may lack performance.

Easy-to-use, simple setup.
Clip-in Mini PCIe socket is compatible with worldwide LTE, UMTS/HSPA+ and GSM/GPRS/EDGE coverage with regional or global modules which work with different frequencies & carriers.
Micro SIM Card socket can easily reachable on the upside of the HAT.
It can be used standalone with PC/Laptop over micro USB, without stacking with Raspberry Pi.
The HAT can be powered from an external 5V source by exposed power pins, directly from Raspberry Pi 5V GPIO headers, via micro USB, or optional JST connector on the bottom of the board.
Efficient and low quiescent current power circuits can hold up to 3Amps.
Optional Send/Receive AT commands over Raspberry Pi UART or USB port is available
Taking the module into the Airplane mode, resetting module functions can be accessible over GPIO pins.
The power of the whole board electronics can be disabled for low-power consumption use cases.
The modules have built-in GNSS(GPS/GLONASS) receivers for your location-based applications.
Micro USB is used to connect the modem, it transmits data through the cable to the Raspberry Pi.
Working temperature range: -40°C ~ 80°C.
FAQ Complete Documentation Ask a Question
Layout

Dimension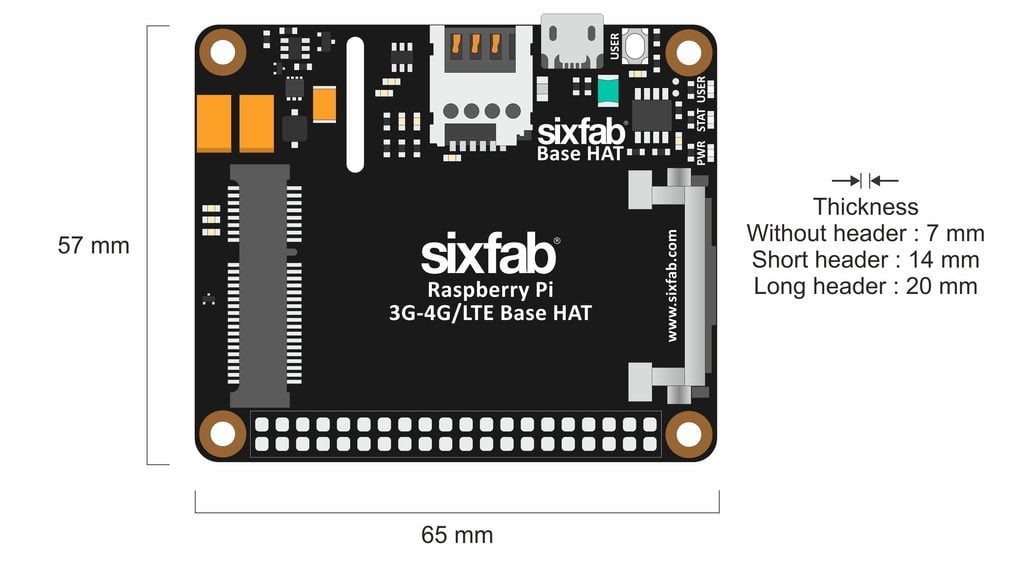 Pinout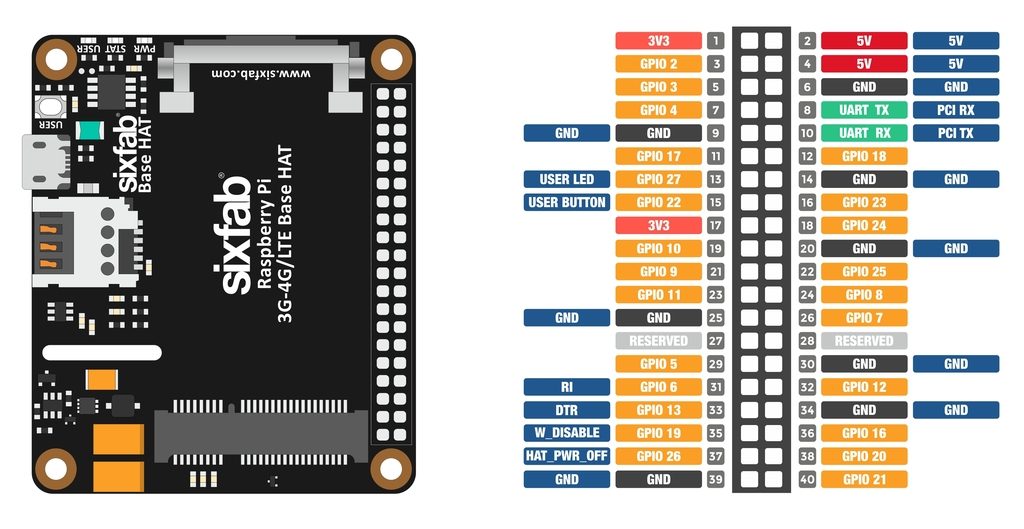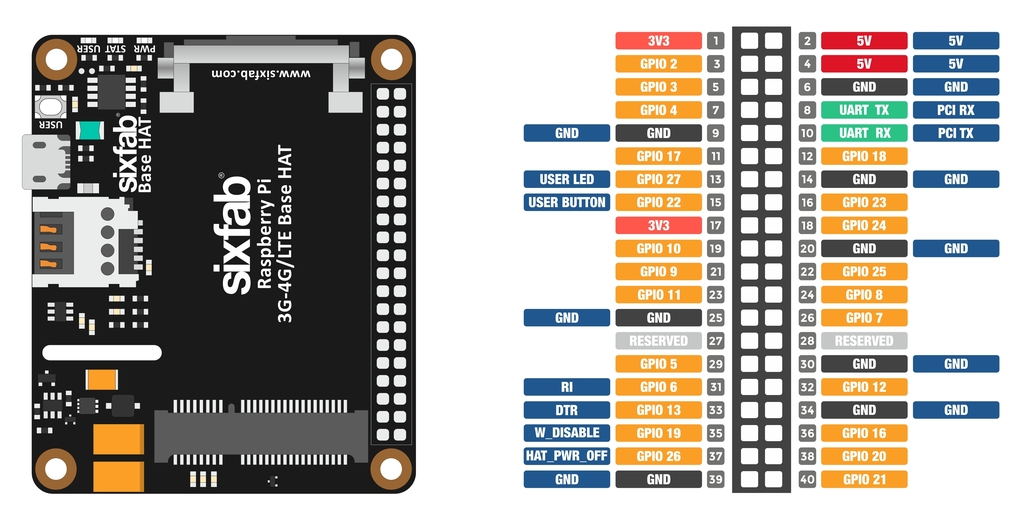 Pin Descriptions
| Pin Number | BCM Pin | Pin Name | Description |
| --- | --- | --- | --- |
| 8 | UART_TX | PCI RX | This pin functions as the serial data input to the module for UART communication. Disconnected by default. |
| 10 | UART_RX | PCI TX | This pin functions as the serial data output from the module for UART communication. Disconnected by default. |
| 13 | GPIO27 | USER LED | Active HIGH, to switch on the USER LED, the pin's state should be HIGH. |
| 15 | GPIO22 | USER BUTTON | This pin normally pulled-down to ground. When the button is pressed, pin switches to LOW. |
| 31 | GPIO6 | RI | This pin is Ring indicator functions as the indication for receiving call or SMS, can be calibrated to HIGH or LOW using the AT commands. |
| 33 | GPIO13 | DTR | When the module is in sleep mode, DTR pin allows to wake the module up by pulling it to LOW. |
| 35 | GPIO19 | W_DISABLE | This pin is used to turn Airplane Mode on the module, by pulling it HIGH. |
| 37 | GPIO26 | HAT_PWR_OFF | Power regulator control. Normally pulled-down, when this pin drove to HIGH, Hat's power will cut off. |
Note: Quectel modules are compatible with the UART of the HAT, Telit modules are not compatible.
LEDs
PWR LED When the module is powered up, this RED led turns on
SGNL LED This BLUE led indicates the status of the connection. When the connection is established and data is being transmitted/received, this led will blink at special intervals. Otherwise, if there is no connection, the led will remain off.
USER LED It is a programmable user-led can be controlled from the GPIO27 of Raspberry Pi for debugging or just fun.
Buttons
User Button It is a programmable user button that is connected to GPIO22. It reads HIGH by default.
Modules

Please follow this link to register your SIM.
Quectel EC25-G

Quectel EG25-G Mini PCIe Specifications
LTE

LTE-FDD: B1, B2, B3, B4, B5, B7, B8, B12, B13, B18, B19, B20, B25, B26, B28
LTE-TDD: B38, B39, B40, B41

WCDMA: B1, B2, B4, B5, B6, B8, B19
GSM: B2, B3, B5, B8
GNSS(Optional): GPS, GLONASS, BeiDou (Compass), Galileo, QZSS
Region: Global
Abundant Protocols: TCP, UDP, PPP, FTP, HTTP, NTP, PING, QMI, NITZ, SMTP, MQTT, CMUX, HTTPS, FTPS, SMTPS, SSL, MMS, FILE
Certification

Carrier: Deutsche Telekom/ AT&T/ U.S. Cellular/ T-Mobile*/ Sprint*/ Rogers*/ Telus
Regulatory: GCF/ CE/ FCC/ PTCRB/ IC/ Anatel/ IFETEL/ SRRC/ NAL/ CCC/ KC/ NCC/ JATE/ TELEC/ RCM/ IMDA/ ICASA/ FAC*/ NBTC*
Others: WHQL
| | |
| --- | --- |
| USB Serial Driver | Windows 7/8/8.1/10, Linux 2.6–5.1, Android 4.x–9.x |
| GNSS Driver | Android 4.x–9.x |
| RIL Driver | Android 4.x–10.x |
| NDIS | Windows 7/ 8/ 8.1/ 10 |
| MBIM | Windows 8/8.1/10, Linux 3.18–5.4 |
| GobiNet Driver | Linux 2.6–5.4 |
| QMI_WWAN Driver | Linux 3.4–5.4 |
"*" means under development.
Telit LE910Cx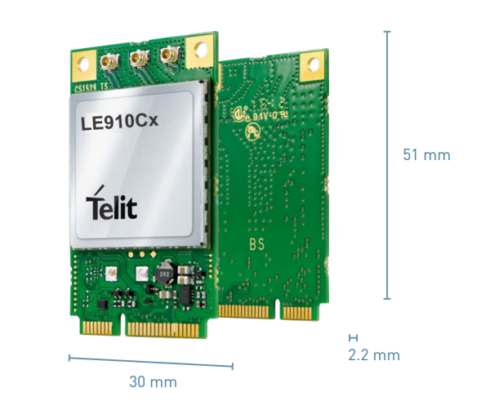 The LE910Cx series Mini PCIe (mPCIe) modules are optimized for LTE low category networks and are available in single mode and 3G/2G fallback options.
Telit LE910C1-NF Mini PCIe Specifications
4G bands (MHz): B12, B14, B4, B2, B5, B13, B66, B71
3G bands (MHz): B2, B4, B5
Region: North America
Carrier: Public safety, AT&T, FirstNet, T-Mobile
Certification: FCC/PTCRB/ AT&T/ FirstNet / T-Mobile
Telit LE910C1-EU Mini PCIe Specifications
4G bands (MHz): B1, B3, B7, B8, B20, B28A
3G bands (MHz): B1, B3, B8
2G bands (MHz): B3, B8
Region: Europe – Middle East – Africa
Certification: RED/GCF/CE
LTE – GNSS Dual u.FL Antenna – 100mm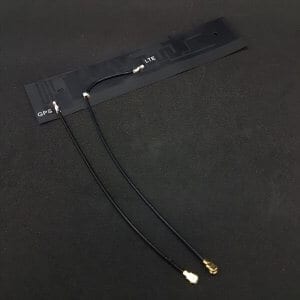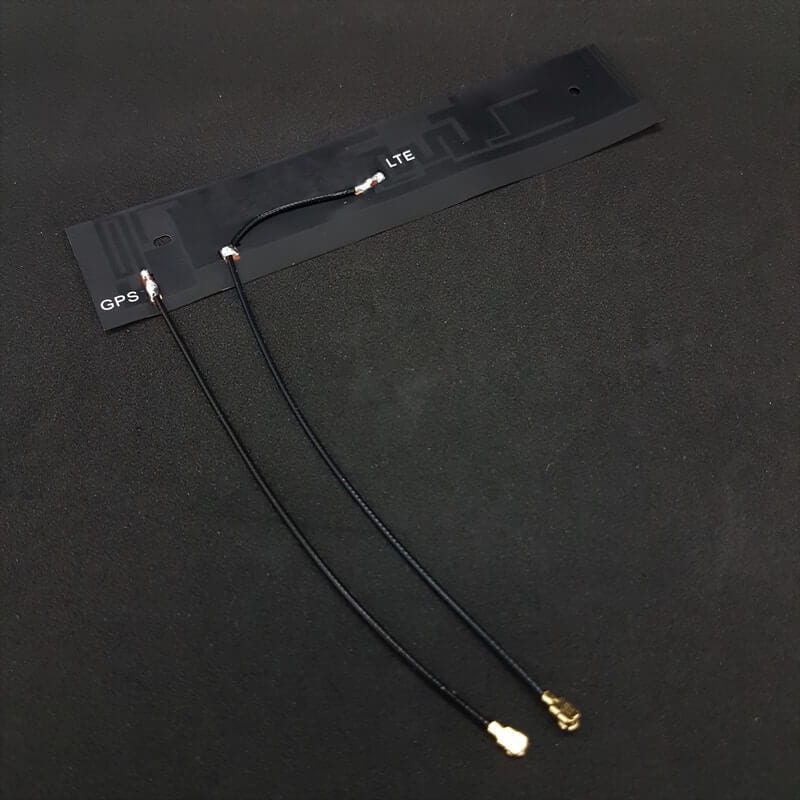 That has two antenna and u.FL plug at the same time in a single form. One of them is GNSS (GPS, Galileo, Glonass), the other one is full band LTE. It's a kind of flex PCB (FPC) and can be folded for tight spaces. Also has adhesive tape on the back for fixing it on boxes/enclosures.
Features
50-ohm impedance
100mm cable length
2G/3G/4G coverage
Supported frequency range: 698 – 3600 MHz
Global LTE bands: B1-B23, B25-B29, B33-B42 ( North America, Europe and Asia included Japan)
Peak gains are between 3.2dBi-4.dBi at the LTE bands (1695 -3600 MHz) and 0.8dBi for the GNSS (1570-1610MHz)
Adhesive tape
LTE Full Band PCB Antenna – u.FL Plug – 100mm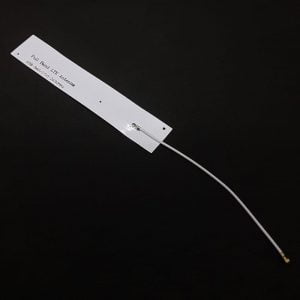 This 100mm long cable flex PCB (FPC) antenna has great antenna gain while using in 3G/4G-LTE applications. It's slim and can be attached to a surface by its own 3M adhesive tape.
Features
50-ohm impedance
2G/3G/4G coverage
Supported frequency range: 698~960/1710~2690MHz
LTE 700, GSM850, GSM900, DCS1800, PCS1900, WCDMA2100, LTE B7 (2500-2690 MHz), LTE B40 (2300 – 2400 MHZ)
FPC Dimension: 110*20*0.15mm
Operating temperature: -40°C to +85°C
u.FL(IPEX) connection
100mm cable length
3M Self-adhesive
Key Applications
Container Tracking
Digital Signage
Wi-Fi Hotspot
Industrial Router
Industrial Monitoring
Remote Medical Equipment
Personal Tracker
Gambling Machine
Farm Machinery
Environment Monitoring
Fleet Management
Smart city
Connected retail
Hey, before you leave
Here is a product that you can use with the modem kit that we handpicked for you
This product is designed to solve the problem of power supply, a persistent challenge for the majority of IoT projects. The uninterruptible HAT will manage sources between batteries and adapters intelligently, ensuring that your device always stays powered without letting your Pi hang up or reset switches seamlessly.
Package Content
1x Long Header
1x Short Header
Note: Raspberry Pi is not included.