Raspberry Pi 4G/LTE Cellular Modem Kit
Cellular Modem Kit for Raspberry Pi lets you roam freely and securely with a mobile data connection, without any coding experience thanks to Sixfab CORE. Whether you're setting up a Raspberry Pi as a mobile web server or looking to access the internet in remote locations, it will give you hassle-free connectivity worldwide. This LTE modem Kit is a quick way to connect your Raspberry Pi to cellular data networks and includes an IoT SIM card with $25 free credit, LTE modem and antennas, a carrier board for the Raspberry Pi, and necessary accessories.
$109.00 – $119.00
Description
The Sixfab 3G/4G& LTE Base HAT grants your Raspberry Pi or 40-pin Pi compatible single-board-computer a super-simple interface bridge between mini PCIe cellular modems. With the modems you insert into Base HAT, your Raspberry Pi based projects will access data networks all around the world. This Base HAT enables narrow-bandwidth to high-bandwidth cellular connectivity on your remote devices i.e from low-power consumption LTE-M to ultra-high-speed LTE-Advanced mini PCIe modules are supported. Both UART and USB communication with modules is available on the HAT.
Features
Fully compatible with Raspberry Pi models that have the 40-pin GPIO header (4, 3, 2, A+). Raspberry Pi Zero may lack performance.

Easy-to-use, simple setup.
Clip-in Mini PCIe socket is compatible with worldwide LTE, UMTS/HSPA+ and GSM/GPRS/EDGE coverage with regional or global modules which work with different frequencies & carriers.
Micro SIM Card socket can easily reachable on the upside of the HAT.
It can be used standalone with PC/Laptop over micro USB, without stacking with Raspberry Pi.
The HAT can be powered from an external 5V source by exposed power pins, directly from Raspberry Pi 5V GPIO headers, via micro USB, or optional JST connector on the bottom of the board.
Efficient and low quiescent current power circuits can hold up to 3Amps.
Optional Send/Receive AT commands over Raspberry Pi UART or USB port is available
Taking the module into the Airplane mode, resetting module functions can be accessible over GPIO pins.
The power of the whole board electronics can be disabled for low-power consumption use cases.
The modules have built-in GNSS(GPS/GLONASS) receivers for your location-based applications.
Micro USB is used to connect the modem, it transmits data through the cable to the Raspberry Pi.
Working temperature range: -25°C ~ 70°C.
FAQ Complete Documentation Ask a Question
Modules
You can select a module among the following
Telit LE910C1-EU
Telit LE910C4-NF
Telit LE910C4-AP
Region
EMEA
(Europe, Middle East, Africa)
North America
(US, Public safety, AT&T, FirstNet,
T-Mobile, Verizon + Canada)
APAC (Australia, New Zealand, India,
Telstra/NTT-Docomo)
Data Speeds
Uplink up to 5 Mbps
Downlink up to 10 Mbps
Uplink up to 50 Mbps
Downlink up to 150 Mbps

Frequencies

4G bands (MHz)
B1, B3, B7, B8, B20, B28A
B12, B14, B4, B2 B5, B13, B66, B71
B1, B3, B5, B8 B9, B18(B26), B19, B28
3G bands (MHz)
B1, B3, B8
B2, B4, B5
B1, B5, B6 B19, B8
2G bands (MHz)
B3, B8
–
–
Positioning
GPS, Glonass, Bei-dou, Galileo, QZSS
Approvals
R&TTE/GCF
FCC/IC, PTCRB, GCF
RCM
Compliance
REACH and RoHS compliant
Please follow this link to register your SIM.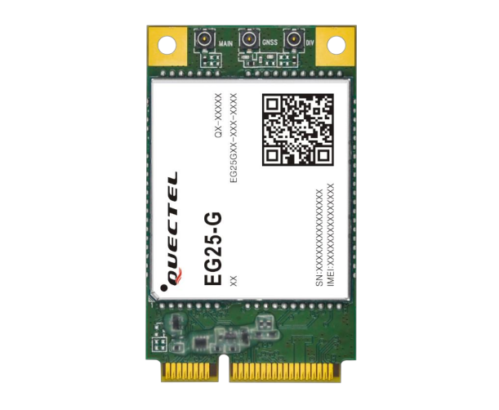 Quectel EG25-G Mini PCIe Specifications
LTE

LTE-FDD: B1, B2, B3, B4, B5, B7, B8, B12, B13, B18, B19, B20, B25, B26, B28
LTE-TDD: B38, B39, B40, B41

WCDMA: B1, B2, B4, B5, B6, B8, B19
GSM: B2, B3, B5, B8
GNSS(Optional): GPS, GLONASS, BeiDou (Compass), Galileo, QZSS
Region: Global
Abundant Protocols: TCP, UDP, PPP, FTP, HTTP, NTP, PING, QMI, NITZ, SMTP, MQTT, CMUX, HTTPS, FTPS, SMTPS, SSL, MMS, FILE
Certification

Carrier: Deutsche Telekom/ AT&T/ U.S. Cellular/ T-Mobile*/ Sprint*/ Rogers*/ Telus
Regulatory: GCF/ CE/ FCC/ PTCRB/ IC/ Anatel/ IFETEL/ SRRC/ NAL/ CCC/ KC/ NCC/ JATE/ TELEC/ RCM/ IMDA/ ICASA/ FAC*/ NBTC*
Others: WHQL
Package Content
$25 Data Credit for Sixfab SIM Card
1x Long Header
1x Short Header
Note: Raspberry Pi is not included.
Compliance
United States: FCC Part 15 Class B Canada: ICES-003 Class B Europe: CE, RoHS, Safety