Description
The Raspberry Pi GPRS/GPS Tracker HAT is based on Quectel's M95 GSM/GPRS module with L96 GNSS/GPS. Built-in unique QuecFOTA™ technology allows M95 to update the firmware remotely. Additional features such as integrated TCP/IP protocol stacks, serial multiplexer and enhanced AT commands guarantee fast and reliable transmission of data and SMS via GSM/GPRS network and extend the functionality of the application at no additional cost. Combining advanced AGPS called EASY™ (Embedded Assist System) and proven AlwaysLocate™ technology, L96 fully meets the industrial standard and provides greatly reduced TTFF and ultra-low power consumption. EASY™ technology allows L96 to calculate and predict orbits automatically using the ephemeris data (up to 3 days) stored in internal flash memory, so the module can fix position quickly even at low signal levels and provide low power consumption. With AlwaysLocate™ technology, L96 can adaptively adjust the ON/OFF time to achieve balance between positioning accuracy and power consumption according to the environmental and motional conditions. Its superb performance makes L96 ideal for automotive, industrial and consumer applications. Extremely low power consumption makes it easier to be applied to power sensitive devices, especially portable applications. We combined these two excellent modules on one board to make location-based applications on Raspberry Pi.
Complete Documentation List
Features
Embedded GSM/GPRS and GNSS antennas, external GNSS antennas can be connected optionally

Advanced power and sleep controls for battery and solar powered applications

Industry's highest level of GNSS sensitivity, accuracy and TTFF(Time to First Fix) with the lowest power consumption

TTFF (Time to First Fix) ,Cold Start: <15s average, Warm Start: <5s average   

L96 GNSS module supports multiple positioning and navigation systems including GPS, GLONASS, Galileo, BeiDou, SBAS (including WAAS, EGNOS, MSAS and GAGAN), QZSS, DGPS, and AGPS.  

M95  Quad-band GPRS module supports GSM850MHz, EGSM900MHz, DCS1800MHz and PCS1900MHz

L96 module features embedded logger function provides a position log capacity of more than 16 hours  

Easy sense 3D FIX, Geo-Fence, 1PSS status via GNSS output pin connected to Raspberry Pi

CR1220 GPS/GNSS Back-up Battery holder at the bottom side of the board

External Active GNSS Antenna Connector (Solder Required)

Less than 1

00 nanoAmps

consumption when the power of HAT is disabled via Disable Pin

Micro SIM Card supported

GNSS Module Control Pins: 1PPS, 3D Fix, Force On, Geo-Fence, Reset

GPRS Module Control Pins: Status, PowerKey 

LEDs: 1PPS, 3D FIX, Power, Status, Netlight

Buttons: Powerkey, User

Easy Raspberry Pi I2C connection exposed by jumper headers

HAT Features

Raspberry Pi Camera ribbon cable slot
Key Applications
Vehicle Management
Security and asset tracking
Bike sharing
Smart parking
Header Options
The HAT comes with built-in SMD header acceptable and two headers with different lengths included in the package by default. You can choose the right version for the project and stack and use it immediately without soldering it.
Long Header: If you plan to attach another Raspberry Pi Tracker HAT or add-on board on top of it, you will definitely need this variation. Also, using GPIOs with jumper cables is possible with these male headers. Should you require to stack another shield on top of Tracker HAT or still need to use GPIOs, the long header will be useful.
Short Header: In case you need the HAT as slim as possible, the short header will work like there is no header added length above the Raspberry Pi.
Technical Details
Electrical
Pinout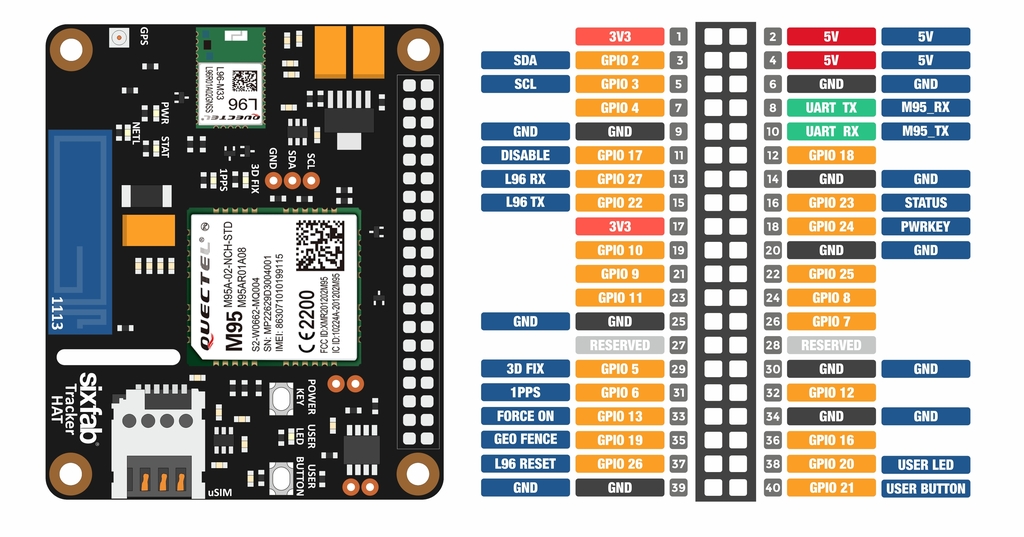 Layout

Pin Descriptions
| Pin Number | BCM Pin | Pin Name | Description |
| --- | --- | --- | --- |
| 2 | 5V | 5V PWR | This pin is connected to the 5V power net. |
| 3 | GPIO 2 | SDA | I2C Serial Data |
| 4 | 5V | 5V PWR | This pin is connected to the 5V power net. |
| 5 | GPIO 3 | SCL | I2C Serial Data |
| 8 | UART RX | M95 TX | This pin functions as the serial data input to the module for UART communication. |
| 10 | UART TX | M95 RX | This pin functions as the serial data output from the module for UART communication |
| 11 | GPIO 17 | DISABLE | By driving this pin to a HIGH level, the power of the whole HAT can be disabled |
| 13 | GPIO 27 | GNSS RX | UART communication that connected to software serial port of Raspberry Pi |
| 15 | GPIO 22 | GNSS TX | UART communication that connected to software serial port of Raspberry Pi |
| 16 | GPIO 23 | STATUS | The STATUS pin is used to indicate the operation status of M95 module. It will output HIGH level when the module is powered on. |
| 18 | GPIO 24 | PWRKEY | The module can be turned on by driving the pin BG96 PWRKEY to a HIGH-level voltage more than 500ms then pulling it down. You can apply the same process to power down to the module if it already powered up. |
| 29 | GPIO 5 | 3D FIX | The 3D_FIX is assigned as a fix flag output. The pin will output a high voltage level to indicate successful positioning. |
| 31 | GPIO 6 | 1PPS | Pulse per second output. Pulse per Second (PPS) can be used for time service. |
| 33 | GPIO 13 | FORCE ON | Logic HIGH will force the module to be woken up from backup mode. |
| 35 | GPIO 19 | GEO-FENCE | Can be used by GEO-FENCE application in need of. |
| 37 | GPIO 26 | GNSS RESET | L96 module can be restarted by driving the RESET pin to a HIGH-level voltage for a certain time and then releasing it. |
| 38 | GPIO 20 | USER LED | Active HIGH, to switch on the USER LED, the pin's state should be HIGH. |
| 40 | GPIO 21 | USER BUTTON | This pin is pulled-up by default. When the button is pressed, pin switches to LOW. |
| 6,9,14,25,30,34,39 | GND | GND | These pins are connected to ground. |
Mechanical
Dimensions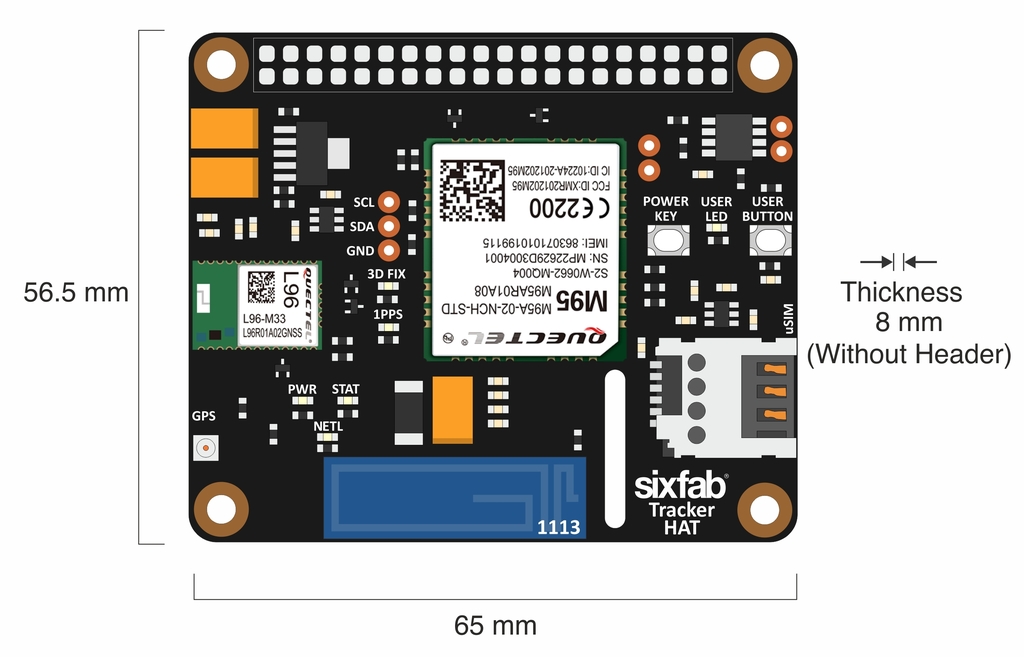 Package Includes
1x Sixfab GPRS/GPS Tracker HAT for Raspberry Pi
1x Long Header
1x Short Header