Telit LE910C4 Mini PCIe LTE CAT4 Module
This product only includes the Telit LE910C4 Mini PCIe CAT4 LTE Module.
In order to use this with a Raspberry Pi, you need to use a Base HAT, LTE and GPS/GNSS antennas.
$69.00
Description
This Telit LE910C4 Mini PCIe is an LTE category 4 module adopting the standard PCI Express MiniCard form factor (Mini PCIe). It is optimized for LTE low category networks and is available in single-mode and 3G fallback.
You can easily insert a Mini PCIe module in
Base HAT
then start using cellular internet with your Raspberry Pi. Only USB communication is available.
Features
LTE FDD Cat.4, 3GPP release 10 compliant
Rx Diversity and MIMO DL 2×2
Single Rx option
SMS over IMS
Built-in UDP/TCP/FTP/SMTP stack
IPv4/IPv6 stack
Control via AT commands according to 3GPP TS 27.005, 27.007 and Telit Custom AT commands
OMA-DM Telit Software Management
Simultaneous support of GPS, Glonass, Bei-dou, Galileo, QZSS
Key Benefits
Standard Mini PCIe Data-card form factor
Best-in class 3GPP rel10 platform
Easy to integrate with peripherals and actuators using USB 2.0 HS and user-definable GPIOs
Battery-friendly 1.8V GPIO
Ideal platform for IoT applications and mobile data and computing devices with ultra-compact design and extended operating temperature range
Internet friendly with integrated TCP/IP and UDP/IP stacks,
Simple drop-in migration and technology design reuse path to 2G and 3G with any xE910 module
Over-the-Air firmware update
IoT Connectivity Ready
This product is capable of supporting the extensive suite of Value Added Services from IoT Connectivity including Module Management and others which make the management of IoT deployments under mobile networks effective, enhancing profitability and reliability. It is also Portal-ready which means that the AT command library in this module includes a set of high-level commands designed exclusively for quick and hassle-free onboarding of the device to the portal and to back-end systems and servers. Telit Portal-ready modules powered by deviceWISE make application-level data flows and controls simple to program, maintain and improve.
Variants
LE910C4-NF
Frequencies
4G Bands(MHz): B12, B14, B4, B2, B5, B13, B66, B71
3G Bands(MHz): B2, B4, B5
LE910C4-EU
Frequencies
4G Bands(MHz): B1, B3, B7, B8, B20, B28A
3G Bands(MHz): B1, B3, B8
2G Bands(MHz): B3, B8
LE910C4-AP
Frequencies
4G Bands(MHz): B1, B3, B5, B8 B9, B18(B26), B19, B28
3G Bands(MHz): B1, B5, B6 B19, B8
Data Speed
LTE Cat.4

Uplink up to 50 Mbps
Downlink up to 150 Mbps

DC-HSPA+ 42 Mbps (with 3G fallback)
Key Applications
Smart Metering
High-speed GPS Tracking
Environmental Monitoring
Smart City & Agriculture Applications
Smart Parking
Security & Asset tracking
Alarm System
Automotive & Transportation
Electrical
Supply voltage

Nominal: 3.3 VDC
Range: 3.3 – 4.2 VDC
Approvals
North America: FCC /IC, PTCRB, GCF
Public safety, AT&T, FirstNet, T-Mobile + Canada
Environmental
Dimensions 51 x 30 x 3.2 mm
Temperature Range -40°C to +85°C
REACH and RoHS compliant
Antenna Interfaces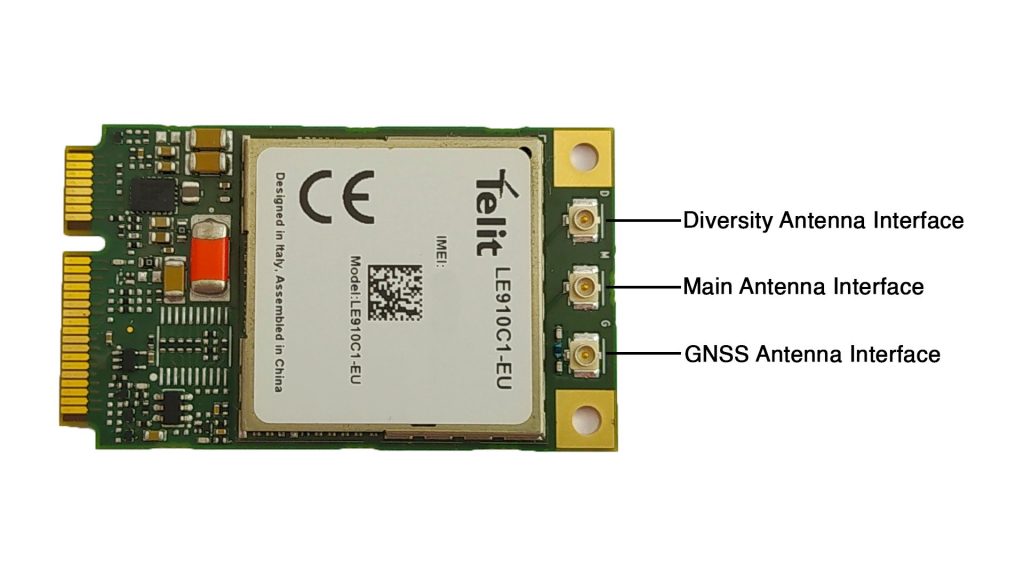 Antenna Recommendations
Package Includes
1x Telit LE910C4 Mini PCIe CAT 4 Module
Driver
This archive contains the Windows 10 WHQL certified Telit module drivers for both x86 and x64 system platforms.
Zip archive with Telit cellular modules USB drivers installers for Windows 7, 8.x, 10 both x86 and x64 system architectures (Non WHQL certified drivers).
Tools
This archive contains the Telit AT controller tool as well as XFP firmware update tool for Microsoft Windows systems.
It can be used to troubleshoot, test and command the Telit cellular module in a graphical interface.