Telit ME910C1-WW Mini PCle LTE-M & NB-IoT Module
The ME910C1 series mini PCIe (mPCIe) modules are optimized for LTE-M and NB-IoT networks and are available with 2G fallback options.
This product only includes the Telit ME910C1 Mini PCle LTE Module. In order to use this with a Raspberry Pi, you need to use a Base HAT, LTE antenna .
$64.90
48 in stock
Description
The ME910C1 is the Category M1/NB1 evolution of the Telit xE910 Series of LTE modules. Specified in the approved Release 13 of the 3GPP standard, Cat M1/NB1 devices are specifically tailored for IoT applications, offering optimized power consumption and enhanced coverage.
The ME910C1 is an LTE UE Category M1/NB1 device with maximum downlink and uplink data rate in the range of 300kbps. This next generation of products supports the new features specified by 3GPP to boost IoT applications based on Raspberry Pi, such as the Power Saving Mode (PSM) and the extended Discontinuous Reception (eDRX), which allow the devices to wake up periodically to deliver only very small amounts of data to the network and then go back to sleep for most of the time, thus allowing longer battery operation. Enhanced coverage, with up to +15dB/+20dB in maximum coupling loss (MCL) compared to the other cellular technologies, is also one of the key benefits of this new LTE flavour. LTE Cat M1/NB1 devices are therefore optimized in cost, size and power consumption compared to higher UE categories. With worldwide coverage advantage, it makes the ME910C1 the perfect platform to enable a quick implementation of LTE technology in IoT/M2M where low cost and low power are more relevant than high speed.
You can easily insert a Mini PCIe module in
Base HAT
then start using cellular internet with your Raspberry Pi. Only USB communication is available.
Features
Worldwide Coverage
LTE UE Category M1/NB1 3GPP release 13 compliant
2G fallback support
Embedded GNSS (GPS, GLONASS, Beidou, Galileo)
Single Rx, single LTE antenna
3GPP Rel. 12 Power Saving Mode (PSM)
3GPP Rel. 13 Extended Discontinuous Reception (eDRX)
3GPP Rel. 13 Extended coverage
SMS
IPv4/IPv6 stack with TCP and UDP protocol
OMA Lightweight M2M (LWM2M)
Regulatory: PTCRB, GCF, RED, FCC/IC, RCM, Jate, Telec, CCC
Certification: AT&T, Verizon, NTT DoCoMo, Deutsche Telekom, Anatel, Telstra, Ifetel, Rogers, Telus, US Cellular
REACH and RoHS compliant
Temperature Range: -40 °C to +85 °C
Dimensions: 51 x 30 x 3.2 mm
Key Benefits
Standard mini PCIe data card form factor
Best-in-class 3GPP Rel. 13 platform
Easy to integrate with peripherals and actuators using USB 2.0 HS, UART and user-definable GPIOs
Battery-friendly 1.8 V GPIO
Internet friendly with integrated TCP/IP and UDP/IP stacks
Simple drop-in migration and technology design reuse path to 2G and 3G with any xE910 module
Firmware Over-the-Air (FOTA) update
Benefit from Rel. 13 features for LTE-M and NB-IoT, such as Power Saving Mode (PSM), extended Discontinuous Reception (eDRX), enhanced coverage
OneEdgeTM Features
Telit offers ME910C1 mini PCIe with OneEdge, a software suite integrated with deployment and management tools to address the complexity expected with the exponential growth in the number of IoT devices.
The following key components are included:
Lightweight M2M protocol enables comprehensive device management, FOTA updates and application enablement of low-power devices with the goal of more
robust and secure connections.
Telit simWISE™, a module-embedded SIM technology, enables reduced footprint, streamlined manufacturing and logistics, and secure communications for connected devices.
Telit IoT AppZone can run code and applications directly inside the Telit module.
Location services provide the position of devices even in the absence of a GNSS connection.
Data Speeds
LTE Category M1

Uplink up to 375 kbps
Downlink up to 300 kbps

LTE Category NB1

Uplink up to 62.5 kbps
Downlink up to 21 kbps

EGPRS

Uplink up to 236 kbps
Downlink up to 296 kbps
Key Applications
Smart Metering
High-speed GPS Tracking
Environmental Monitoring
Smart City & Agriculture Applications
Smart Parking
Security & Asset tracking
Alarm System
Infrequent Data Transfer
Electrical
Supply voltage

Nominal: 3.3 V dc
Range: 3.0-3.6 V dc
Approvals
Environmental
Dimensions: 51 x 30 x 3.2 mm
Temperature Range: -40 °C to +85 °C
REACH and RoHS compliant
Antenna Interfaces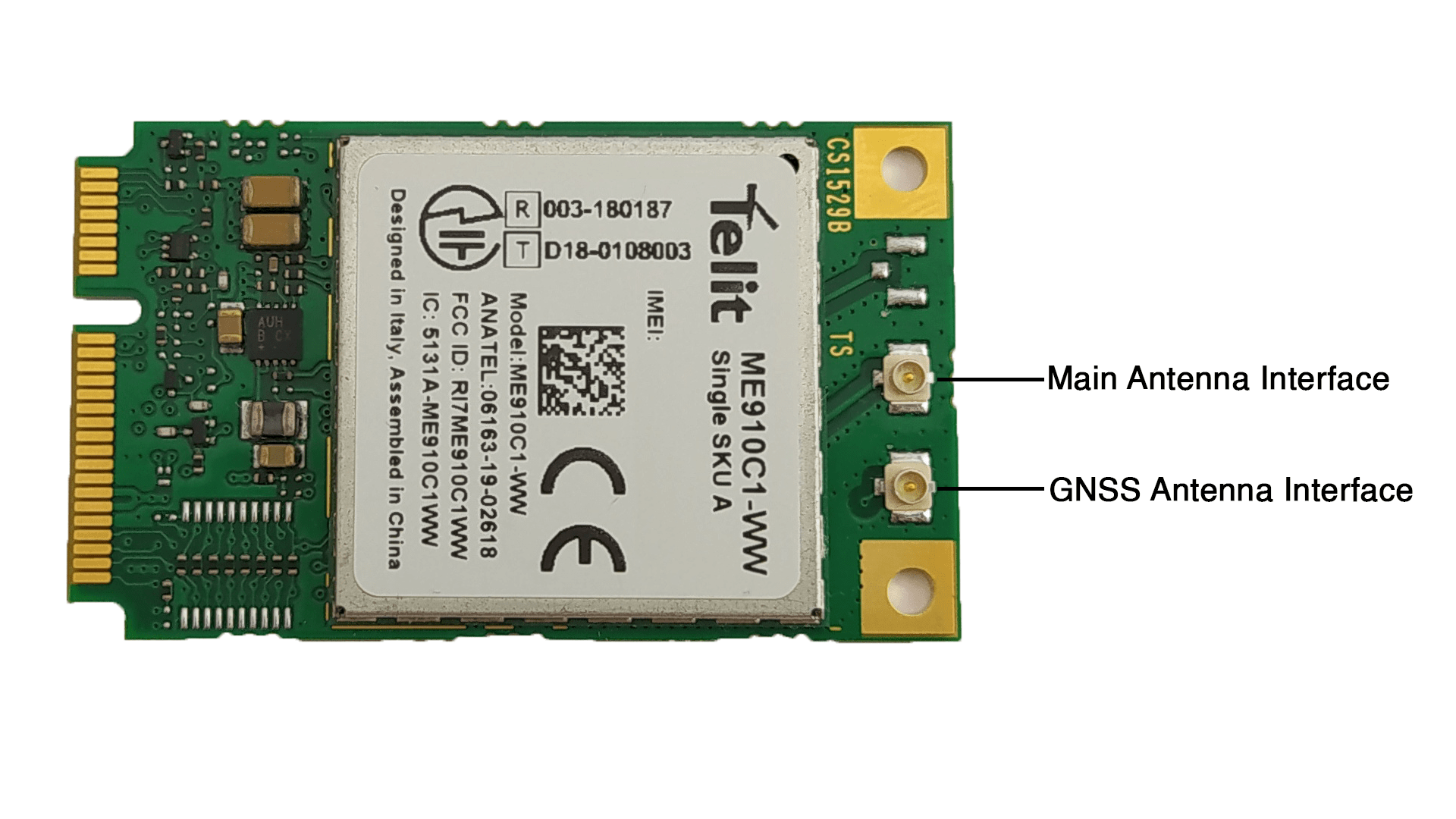 Antenna Recommendations
Package Includes
1x Telit Mini PCIe CAT M1&NB1 Global Module
Driver
This archive contains the Windows 10 WHQL certified Telit module drivers for both x86 and x64 system platforms.
Zip archive with Telit cellular modules USB drivers installers for Windows 7, 8.x, 10 both x86 and x64 system architectures (Non WHQL certified drivers).
Firmware
The archive containing Telit ME910C1-WW firmware update for version V.30.00.817 as well as release notes.-M2M-GPRS-TATP-1G_TFI